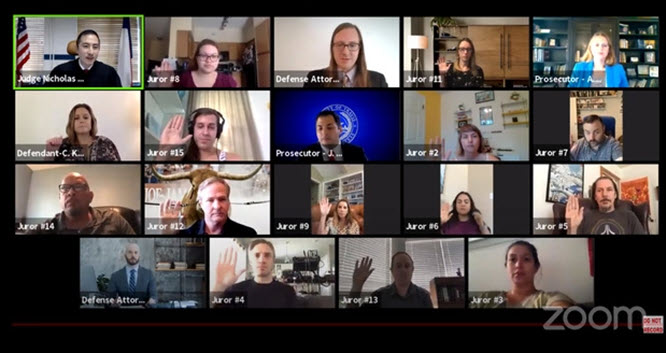 Virtual Trials: Criminal jury trials take priority over civil cases. With the space limitations that social distancing requires at the courthouse, only one or two in-person criminal trials may be set simultaneously. These limitations only serve to create a large backlog for jury trials. To ensure the fair and prompt resolution of cases, the District of Utah has conducted a few virtual bench trials in civil cases using Zoom. These virtual bench trials were successful. With this success, the court is preparing to conduct virtual jury trials in civil cases to reduce the backlog of cases the pandemic has created. Please visit the court's Zoom Hearings webpage for additional information about preparing to use Zoom for virtual proceedings. 
Virtual Voir Dire: When reasonable, the court will use virtual voir dire to select a jury in criminal and civil trials. While the trial will be conducted in person, with the jury present at the courthouse, jury orientation and selection from the larger jury panel will occur online. This online jury selection process will be used to reduce the number of people entering the courthouse, minimize COVID-19 exposure while at the courthouse, and save travel expense for jurors who reside far away from the courthouse. 
Virtual Proceedings Sample Documents:
Virtual Jury Trials Sample Documents:
Sample Juror Questionnaires:
News Reports:
Western District of Washington: The Western District of Washington has provided video of its February 5, 2021 Virtual Jury Trial Seminar, with links to its Virtual Trial Handbook for Attorneys and Virtual Trial Juror Reference Guide. The District of Utah relied on these materials and their practices when creating its virtual trial manuals and practices.
Please email suggestions or corrections for this webpage to: dj.nuffer@utd.uscourts.gov.